Looking for an RN to BSN Bachelor of Science Degree in Nursing in Connecticut?
If you are a Registered Nurse seeking to further your career through enhancing the clinical and technical skills you've already obtained, then pursuing a Bachelor of Science degree in Nursing (BSN) at Lincoln College of New England is perfect for you! The RN to BSN program is designed for Registered Nurses who are looking to obtain a bachelor's degree in nursing while building upon their current expertise.
WHY CHOOSE LINCOLN COLLEGE OF NEW ENGLAND FOR YOUR BSN DEGREE?
EFFICIENCY Work hands-on with expert faculty and a cohort of other Registered Nurses on campus, and complete some of the coursework online, on your schedule.
COHORTS Train with RNs as committed to the success of the group as you are.
CONVENIENCE Part-time schedules allow you to earn your BSN while you continue to work full-time.
CREDIT FOR ALL YOU HAVE EARNED Having completed the course work toward an RN and achieved licensure as a Registered Nurse, a minimum of 35 transfer credits will be granted for your completed nursing courses. LCNE will evaluate for acceptance all remaining coursework completed in your Associate Degree or RN diploma, and any other college credit earned. LCNE is committed to working with Registered Nurses and may accept up to a maximum of 90 transfer credits in total, allowing you to graduate with a Bachelor of Science Degree in less time than you originally thought possible.*
CONNECTIONS Career placement assistance and access to a wealth of hospital connections.
The medical field is constantly evolving, as new breakthroughs in treatments, medicine and technology are discovered. The Nursing degree program gives students the opportunity to grow professionally, improve their excellence in practice and identify strategies to meet traditional and new requirements of the health care environment.
* For further details on Transfer of Credit, please refer to the College Catalog.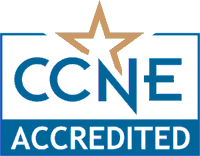 The baccalaureate degree in nursing at Lincoln College of New England is accredited by the Commission on Collegiate Nursing Education, 655 K Street NW, Washington, DC 20001, (202) 463-6930. http://www.ccneaccreditation.org
Interested in learning more about RN to BSN classes? Use the form below to send us an Instant Message or call (800) 825-0087 now to speak to an Admissions Representative!